Cantonese group lessons for children in a relaxed and cheerful setting
Rainbow Seeds believes a relaxed and cheerful setting is essential for helping your child learn Cantonese. So we pay particular attention to the environment when designing our Cantonese group lessons for children.
Your child will learn Cantonese in a small group of 7-10 children. This fosters a friendly environment and means our teachers can get to know each child and their strengths and weaknesses.
Because each class is small, we can easily tailor it to the children's level. Your child will make the most of the time in their Cantonese lesson. They won't feel bored because it's too easy and they won't feel frustrated because it's too hard.
We use the playful kindergarten teaching methods we learned in Hong Kong to plan creative, engaging lessons that children love. When classes respond to a child's interests, learning comes naturally.
Interacting with other Cantonese-speaking children adds another dimension to your child's Cantonese-learning journey. Learning in a group will increase their motivation to learn and help them develop their self-esteem.
Group Class Timetable
The Teaching page will help you work out which level is best for your child.
Sign up now!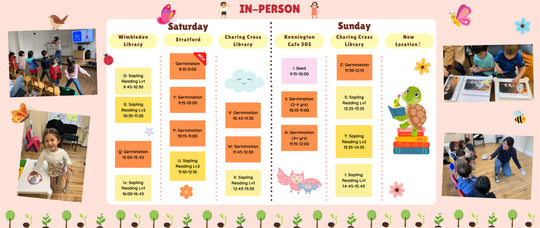 How We Do Our Classes
More photos and videos can be found on our facebook page.